1745 to 1746
Jacobite rising of 1745
by Something Something
The Jacobite rising of 1745 was an attempt by Charles Edward Stuart to regain the British throne for his father, James Francis Edward Stuart. It took place during the War of the Austrian Succession, when the bulk of the British Army was fighting in mainland Europe, and proved to be the last in a series of revolts that began in 1689, with major outbreaks in 1708, 1715 and 1719.
  Table of Contents / Timeline
The battle with HMS Lion forced Elizabeth to return to port with most of the weapons and volunteers
CHAPTER   1
Charles heads to Scotland
In early July, Charles boarded Du Teillay at Saint-Nazaire accompanied by the "Seven Men of Moidart", the most notable being John O'Sullivan, an Irish exile and former French officer who acted as chief of staff. The two vessels left for the Western Isles on 15 July but were intercepted four days out by HMS Lion, which engaged Elizabeth. After a four-hour battle, both were forced to return to port; loss of the volunteers and weapons on Elizabeth was a major setback but Du Teillay landed Charles at Eriskay on 23 July.
More details
Bonnie Prince Charlie lands in Scotland
Charles Edward Stuart, 'Young Pretender' or 'Bonnie Prince Charlie' landed in Scotland on Eriskay Island. The start of the last Jacobite rebellion or "the '45"
More details
The raising of the Standard at Glenfinnan
CHAPTER   3
Rebellion is launched
On 19 August, the rebellion was launched with the raising of the Royal Standard at Glenfinnan, witnessed by a force of Highlanders O'Sullivan estimated as around 700.
More details
The Jacobites enter Edinburgh
At Perth, Charles Edward Stuart claimed the throne for his father. On 17 September, Charles entered Edinburgh unopposed, although Edinburgh Castle itself remained in government hands; James was proclaimed King of Scotland the next day and Charles his Regent.
The Battle of Prestonpans
CHAPTER   5
Battle of Prestonpans
Jacobites defeated a British force at Prestonpans and moved south into England
More details
The Jacobites take Carlisle
CHAPTER   6
Invasion of England: Carlisle is taken
Murray divided the army into two columns to conceal their destination from General Wade, government commander in Newcastle, and entered England on 8 November unopposed. On 10th, they reached Carlisle, an important border fortress before the 1707 Union but whose defences were now in poor condition, held by a garrison of 80 elderly veterans. Despite this, without siege artillery the Jacobites would have to starve it into submission, an operation for which they had neither the equipment or time. The castle capitulated on 15 November, after learning Wade's relief force was delayed by snow;
The Jacobite army retreats at Derby
At previous Council meetings in Preston and Manchester, many Scots felt they had already gone far enough, but agreed to continue when Charles assured them Sir Watkin Williams Wynn would meet them at Derby, while the Duke of Beaufort was preparing to seize the strategic port of Bristol. When they reached Derby on 4 December, there was no sign of these reinforcements, and the Council convened the following day to discuss next steps. The council were overwhelmingly in favour of retreat, strengthened by news the French had landed supplies, pay and Scots and Irish regulars from the Royal Écossais (Royal Scots) and the Irish Brigade at Montrose.
More details
The skirmish at Clifton Moor
CHAPTER   8
Clifton Moor Skirmish
The Clifton Moor Skirmish took place on the evening of Wednesday 18 December during the Jacobite rising of 1745. Following the decision to retreat from Derby on 6 December, the fast-moving Jacobite army split into three smaller columns; on the morning of 18th, a small force of dragoons led by Cumberland and Sir Philip Honywood made contact with the Jacobite rearguard, at that point commanded by Lord George Murray.
More details
The Battle of Falkirk Muir
CHAPTER   9
Battle of Falkirk Muir
In Scotland the Jacobites failed to capture Stirling Castle, but defeated General Henry Hawley's army at Falkirk and later captured Inverness.
More details
CHAPTER   10
Battle of Culloden
Battle of Culloden won by the British led by the king's younger son, Prince William Duke of Cumberland. Charles Edward Stuart decided to fight the battle on a flat moor outside Inverness, against military advice. It was a case of English cannons against Scottish daggers and swords
More details
Ruthven Barracks, where over 1,500 Jacobite survivors assembled after Culloden
CHAPTER   11
Prince Charles disbands the Jacobite army
A potential 5,000 to 6,000 Jacobites remained in arms and over the next two days, an estimated 1,500 survivors assembled at Ruthven Barracks; however on 20 April, Charles ordered them to disperse, arguing French assistance was required to continue the fight and they should return home until he returned with additional support.
More details
Jacobites hunted down
CHAPTER   12
Hunting Jacobites
After Culloden, government forces spent several weeks searching for rebels, confiscating cattle and burning non-juring Episcopalian and Catholic meeting houses. The brutality of these measures was driven by a widespread perception on both sides that another landing was imminent. Regular soldiers in French service were treated as prisoners of war and later exchanged, regardless of nationality, but 3,500 captured Jacobites were indicted for treason. Of these, 120 were executed, primarily deserters and members of the Manchester Regiment. Some 650 died awaiting trial; 900 were pardoned and the rest transported.
More details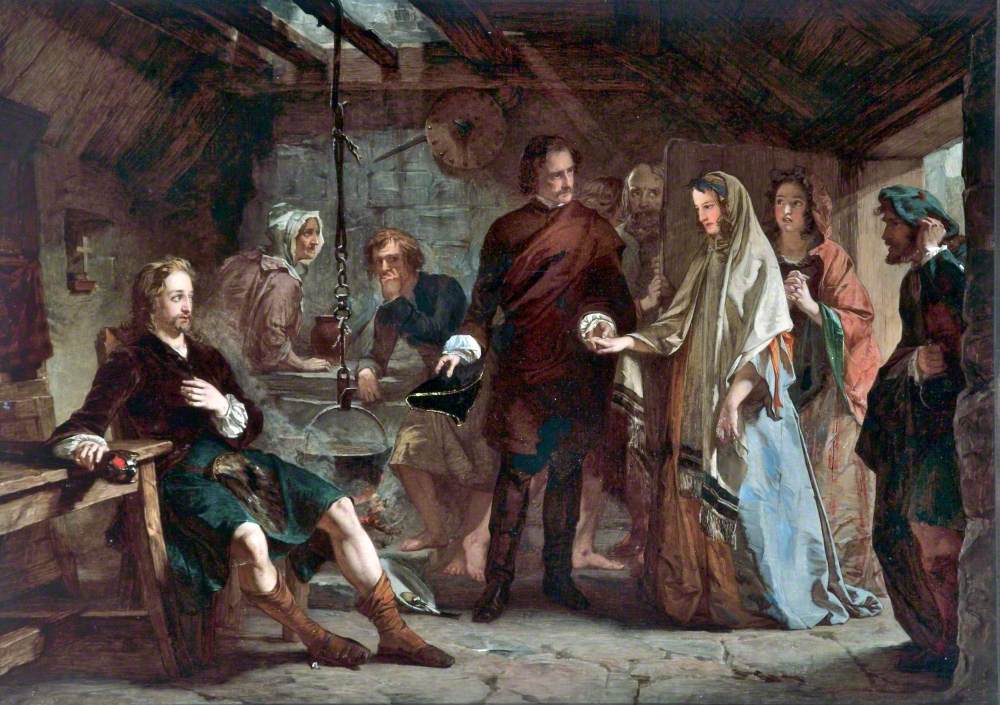 Bonnie Prince Charlie in flight
CHAPTER   13
Prince Charles escapes and leaves Scotland forever
After evading capture in the Western Highlands, Charles was picked up by a French ship on 20 September; he never returned to Scotland but the collapse of his relationship with the Scots always made this unlikely. Even before Derby, he accused Murray and others of treachery; these outbursts became more frequent due to disappointment and heavy drinking, while the Scots no longer trusted his promises of support.
References
Aikman, Christian (2001). No Quarter Given: The Muster Roll of Prince Charles Edward Stuart's Army, 1745–46 (third revised ed.). Neil Wilson Publishing. ISBN 978-1903238028.
Chambers, Robert (1827). History of the Rebellion of 1745–6 (2018 ed.). Forgotten Books. ISBN 978-1333574420.
Duffy, Christopher (2003). The '45: Bonnie Prince Charlie and the Untold Story of the Jacobite Rising (First ed.). Orion. ISBN 978-0304355259.
Fremont, Gregory (2011). The Jacobite Rebellion 1745–46. Osprey Publishing. ISBN 978-1846039928.
Riding, Jacqueline (2016). Jacobites: A New History of the 45 Rebellion. Bloomsbury. ISBN 978-1408819128.
Subscribe to Newsletter
Get our monthly newsletter sent to your inbox, no spam.
Notifications on new HistoryMaps
Find out which HistoryMaps are updated
Find out which HistoryMaps are coming out next
The End
...or is it?
🐰 Stay in wonderland